August 2009 – Present
Cebu Pacific Flight (Manila – Shanghai)
South Laiting Road, Jiuting District, Shanghai
Xujiahui, Shanghai
Shanghai Everbright Hotel, Shanghai
Starbucks, Abreeza Mall, Philippines
Ronald and I arrived in Shanghai, China through the popular red-eye flight from Cebu Pacific last August 9, 2009.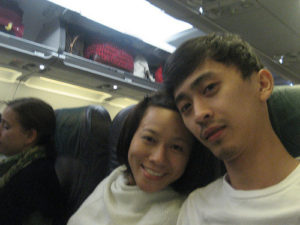 Cebu Pacific's
Manila – Pudong
red-eye flight, August 8, 2009
This is the main campus of the Cambridge International Center, attached to Shanghai Normal University, Guilin Road, Shanghai. Initially, both Ronald and I taught in the same campus, in Jiuting District, however starting last school term, I currently teach in the main campus.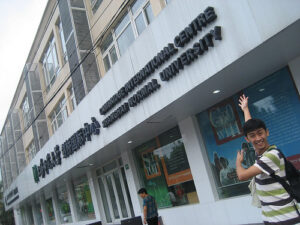 We made it, hurrah! Day 1
This is the view of the main school building in Jiuting Campus when viewed from the coffee bar. Each campus has a coffee lounge area for faculty and staff to unwind during breaks.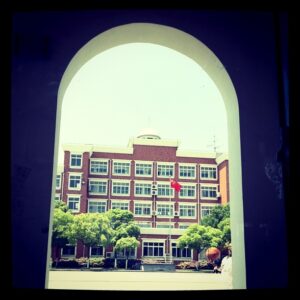 Shanghai Normal University – Cambridge International Centre, Jiuting Campus*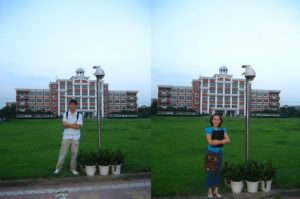 Obligatory pose, Day 3
Initially, Ronald and I chose to share an apartment that was just a few blocks away from the Jiuting Campus. We had a massive, five bedroom, three-storey high, lane house that was just 2 blocks away from the school. We figured, we came to Shanghai to slave ourselves to work, right? We might as well, conveniently live near our workplace. Wrong. Although, we live in a relatively quiet neighborhood, it was too quiet that Tibungco, Davao City seems busier and livelier in the night. We live miles away from our families and friends, I thought that we should probably live in a much vibrant and livelier community to cope up with homesickness.
On Day 4, Gafor was kind enough to show us around, brought us to the inner ring road of Shanghai. Gafor, also teaches at the Jiuting Campus, however, he does not live near the school. He was wise enough to pick an apartment near the Shanghai City center, in Xujiahui area. He lives only a few blocks away from Metro City Mall.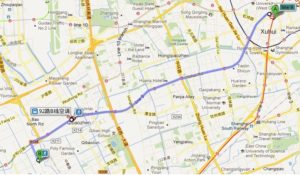 Point A is Metro City, Xujiahui Area and Point B is Jiuting Campus
When we first got hold of the Shanghai Map from the Pudong Airport, we noticed that we cannot find the location of our campus in the tourist map. Apparently, the school is located in the outskirts of the Southwestern part of Shanghai, where the limit of the tourist promotion ceases.
Our school is about an hour or less of a subway ride from the Shanghai Inner ring road area. This is what the Shanghai Nights look like in the city center.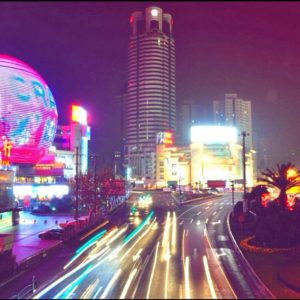 Zhao Jia Bang Lu, Hong Qiao Lu Intersection, Xujiahui*
It did not take long for us to move to to an apartment along the inner ring road of Shanghai, where the night lights shine bright. After six months, we were city citizens.
By the end of our first school term, we were staying in an apartment that was just a few blocks away from Shanghai Everbright Hotel, where my first A2 graduation ceremony was held.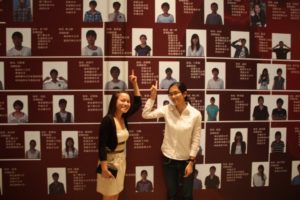 With Janet, CIE A2 graduation ceremony, Shanghai Everbright Hotel, June 2010
I will share more about my life in Shanghai in my next blog.